Cancel the noise with the NC35's awesome ANC (up to 90% of surrounding noise is cancelled!)
With a battery life of 50hours you can listen to your favorite tunes and podcasts for the duration of any trip, holiday, or work week!
Our unique in-house design makes the NC35 one of the comfiest, most light-weight headphones you'll ever use, especially over extended periods of time! 
Bluetooth 5.3 for the clearest sound on the go, and with the integrated mics, use Siri or make calls on the go! 

Keep your favorite headphone safe and sound with the included carrying case
The latest and greatest Srhythm tech in a gorgeous and affordable package, what more could you want?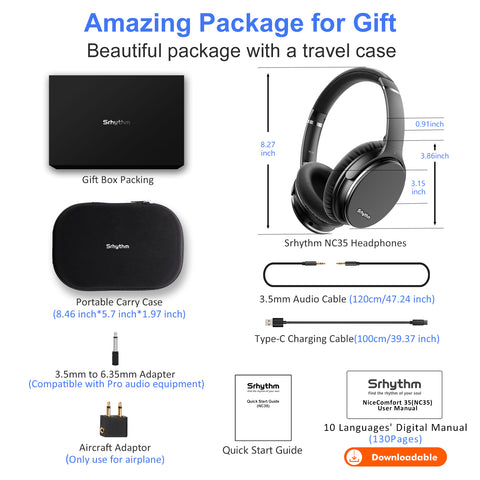 NC35 Details
NC35 Driver & User Manual
World-Leading Digital Active Noise Cancelling (ANC): Advanced noise cancellation technology effectively quells 90% stable low frequency background noise when in noisy environment airplane/subway/car/office/factory/crowd etc.(not 100% sound canceling.). ANC works well in both wired and wireless mode. ANC ON,World OFF.To be better and better noise reducing is our goal!
Elegant Appearance & Tiny Lightweight Folding: Light for head relaxing and portable for traveling storage. Durable headset 0.4 lb ONLY! 100°-120°ear-cups' multi-angle flexible rotation with adjustable headband of 8 levels' size stretch. Ergonomic international standard size.
Fast Charge & 50+Hours Enjoyment: Charging 10 minutes to use 3 hours. High efficiency and energy-saving Bluetooth 5.3 to prolong playtime up to 50 hours after 1-2 hours' full charge.Built-in sensitive microphones for easy communication under Bluetooth mode.Support Voice Assistant. 3.5mm stereo audio cable as back-up when in low battery.Extra Charging protection especially for high-end cars.
Ultimate Sound: Clear mega bass from unique designed sound chamber and 40mm HD premium speakers.Professionally stereo drivers' and other frequency bands' improvements make music grace to find the rhythm of your soul.Sometimes quality just needs to be heard.
Superior Comfort: Extremely comfortable memory protein leather with skin-friendly breathable feel.Exclusive Designs of Air Pressure Balance to reduce sound wave pressure of active noise reduction. Designed in Japan. Note: the exclusive authorized seller is Srhythm.

Click HERE to download the NC35 User Manual

No need extra driver
please use the device's default settings to get better performance
v5.0+
Control your music, calls, and more with our best in class bluetooth headphones.
ANC
Block out the noise with our world renowned wireless ANC tech.
Ultimate comfort
Whether you're listening to your favorite songs all day, or talking to our staff.