How to Connect your Srhythm Headphone to a TV
Having a Bluetooth connection issue? Since 10 years ago, Srhythm Bluetooth headphones were made of premium materials conductive with one of the finest technologies. With the latest Bluetooth version built-in, the Plug and Play was able to bring much more flexibility and control when households were listening cordless their local songs. Suitable to a large scale of devices such as TV for example, their trends tend to increase in transmitting a faster audio source from their Bluetooth headphones, and combining high quality chip with a short time process. If you want to connect with ease your Srhythm Bluetooth headphones to your TV, please follow our tips below.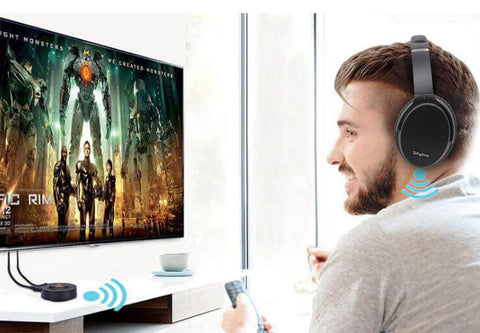 Set up your connection
Designed to reduce the noise and experience new sound sensations in family, our Srhythm Bluetooth headphones are equipped bi-mode for connecting and synchronizing to a TV. Easy to switch mode and pair, newest models of TV 4K HD are fully built with Bluetooth which Plug and Play your headphone for each use. Developed with innovative technological features, our Bluetooth headphones are designed to ease the set up and faster your Bluetooth transmission, so that you can locate your connection without installing any driver and focus on what matter most in silence. Largely compatible on different systems for connecting a wide range of set devices such as TV sound bar, remote or controller, external Bluetooth adapter or top-box, your experience sound will be truly immersive in home living room after coupling your Bluetooth headphone. Therefore, there are a number of ways how to connect your Srhythm Bluetooth headphone to a TV and emerge yourself in your favorite music with a pure sound after a successful pairing. Our clear solutions outlined with tips shown cf-below will guide you step-by-step and lead your environment to a new relaxing atmosphere.
- Get a Bluetooth Audio Transmitter and Receiver
- Use RF wireless headphones
- Use a remote or controller with a jack
Please note the following steps cf-above are logical and require precautions while plugging your headphone to an external TV output. In indeed, tired wired cables may not charge and sync your headphone due to a malfunction causing an unknown device. Replacing carefully your wired cables after checking the manual, or contacting Srhythm manufacturer in case of limited edition will strengthen your headphone warranty for any problems occurs. By doing so, your environment will be set for connecting and pairing your devices as explained in the next section.
Connect your Srhythm headphone
Habits of watching TV increased and tend to features household entertainment programs with a high sound quality. Built for home family fun, they can pleasure by choosing their favorite audio program from an external Bluetooth connection and stream it in from their paired device. More convenient and faster, let´s have a close look on different solutions for pairing your Srhythm Bluetooth headphone to a TV.
1 Get a Bluetooth Audio Transmitter and Receiver
If you encounter a Bluetooth connection issue and are unable to sync your content from your Srhythm headphone to a standard TV, buying first a Bluetooth audio transmitter and receiver for optimizing your frequency range and stabilizing your operating distance. Suitable for household or business, its use is Plug and Play with a CSR chip built-in and external USB outputs for plugging with ease to your model of TV. Perfect getaway for pairing with safety, the battery life and performance of your transmitter and receiver will create a pure sound stereo compatible from any devices. Upgraded with Bluetooth technologies such as EDR+, the remote control of your Srhythm Bluetooth headphone will be much more stable and easier for operating it within a secured distance. After powering up your Bluetooth audio transmitter and receiver, plesase follow the steps to pair your Srhythm Bluetooth headphone to a TV:
Step 1. Turn on your Bluetooth device on and ensure your wireless connection is on.
Step 2. Put your headphone near your transmitter and receiver.
Step 3. Pairing devices successfully, and make sure an indicator light blink on both devices.
In parallel, if you use a separate transmitter and receiver, ensure our Bluetooth headphones are fully built with a low latency Apt-X. This will avoid major audio delay. Most of TV are fully equipped with a large screen ratio to consistent your wireless connection and optimize your signal strength within a large operating distance. RF wireless headphones for example can amplify your radio signal to transmit the audio source between paired devices. Greater and faster, it can connect multiple devices at once as explained in the next part.
2 Use RF wireless headphones
Compared to traditional Bluetooth headphones, RF wireless headphones need a transmitter module to be connected to audio source. Therefore, you can connect from any wireless devices connected. Since they are faster in transmitting Bluetooth signal, they can connect easily the base to any ports such as AV output or headphone 3.5mm jack which cover the radian to transmit your audio source. Improving therefore your Bluetooth signal, you can pair your Bluetooth devices to a distance max up to 300feet and listen your favorite music. With a stable connection upgraded, the meant is RF is mostly used for medium and low volume products for consumer application such as garage, indoor, smart sensors, etc. More expensive than traditional Bluetooth headphones, the configuration to set up your RF wireless headphone is easier and improved by a higher energy transfer efficiency and shorter process time to pair your Srhythm Bluetooth headphone. As you might expect, a RF wireless headphone is a powerful transmitter module, suitable for saving your paired devices energy and coupling them on long operating distance. But different factors may overlap and interfere your speed and range of network due to a Bluetooth connection issue. Buying a special headphone jack adapter can help you to solve this issue as explained in the next part.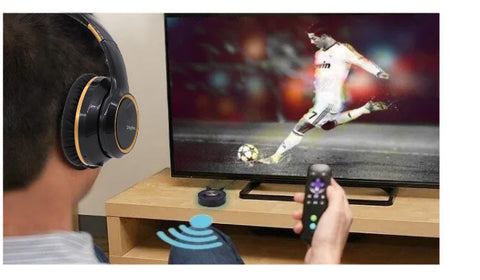 3 Use a remote or controller with a jack
Referred commonly as headphone splitter, it allows two headphones to be connected through to a audio jack. Easy to remote control with built-in headphone jack, it will Plug and Play your device and sync quickly your content to your TV. Improving clearly your sound quality with a high-quality circuitry built-in, external noises are filtered in a loud environment through to a noise cancelling technology so that you can focus on what matter most in silence. Wether you are playing games or watching TV, an external audio output must be supported to pair your Bluetooth headphone to your TV. Largely compatible with a wide range of devices, there are therefore number of ways to remote your Srhythm headphone to a TV and get the best sound experience.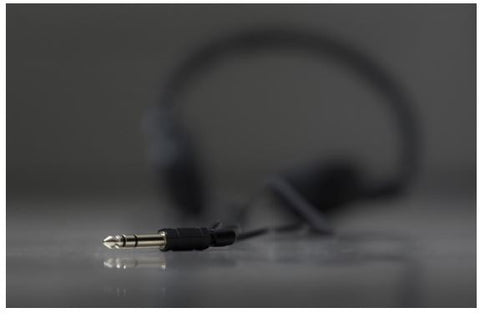 The bottom line
To conclude, there are multiple solutions how to connect your Srhythm headphone to a TV. Designed bi-mode for stabilizing and improving your signal performance, new sound sensations will be impulse through to an easy coupling. Faster and easier to remote, some careful precautions before coupling your device must be reminded though.
- Firstly, prepare your environment by setting up your connection, wired cables or wireless connection. Don´t tire your cables causing a poor network connection.
- Secondly, if you get a Bluetooth audio transmitter, use a RF wireless headphone or use a remote controller with a jack, connect successfully your paired devices once your lights are blinking.
- Lastly, if you own multiple Srhythm headphones, unpair your unecessary devices for avoiding jam.